Advancing our JCS Mission: committed to excellence in teaching the mind, reaching the heart, and inspiring servant leaders who will impact the world for Jesus Christ.
Dear Jupiter Christian School Community,
"For to us a child is born, to us a son is given, and the government will be on his shoulders. And he will be called Wonderful Counselor, Mighty God, Everlasting Father, Prince of Peace." Isaiah 9:6
I love the theme of the second week of advent: Peace! Amid all of the hustle and bustle of Christmas preparations, we are called to quiet our hearts and minds and focus on Him at a time when the demands of holiday parties, programs, and gift giving seem to overwhelm us. I pray that each of you find time this week to enjoy the stillness of prayer, the fellowship of others, and the calm that comes from knowing Jesus, the Prince of Peace.
On Thursday, the Grace Team invites you to take a breath and join us as we pause to celebrate Christmas together. This will be a wonderful time to enjoy food, fun, and prayer. Please RSVP to Toi@toistepp.com so we have an idea for food. Feel free to invite a friend:)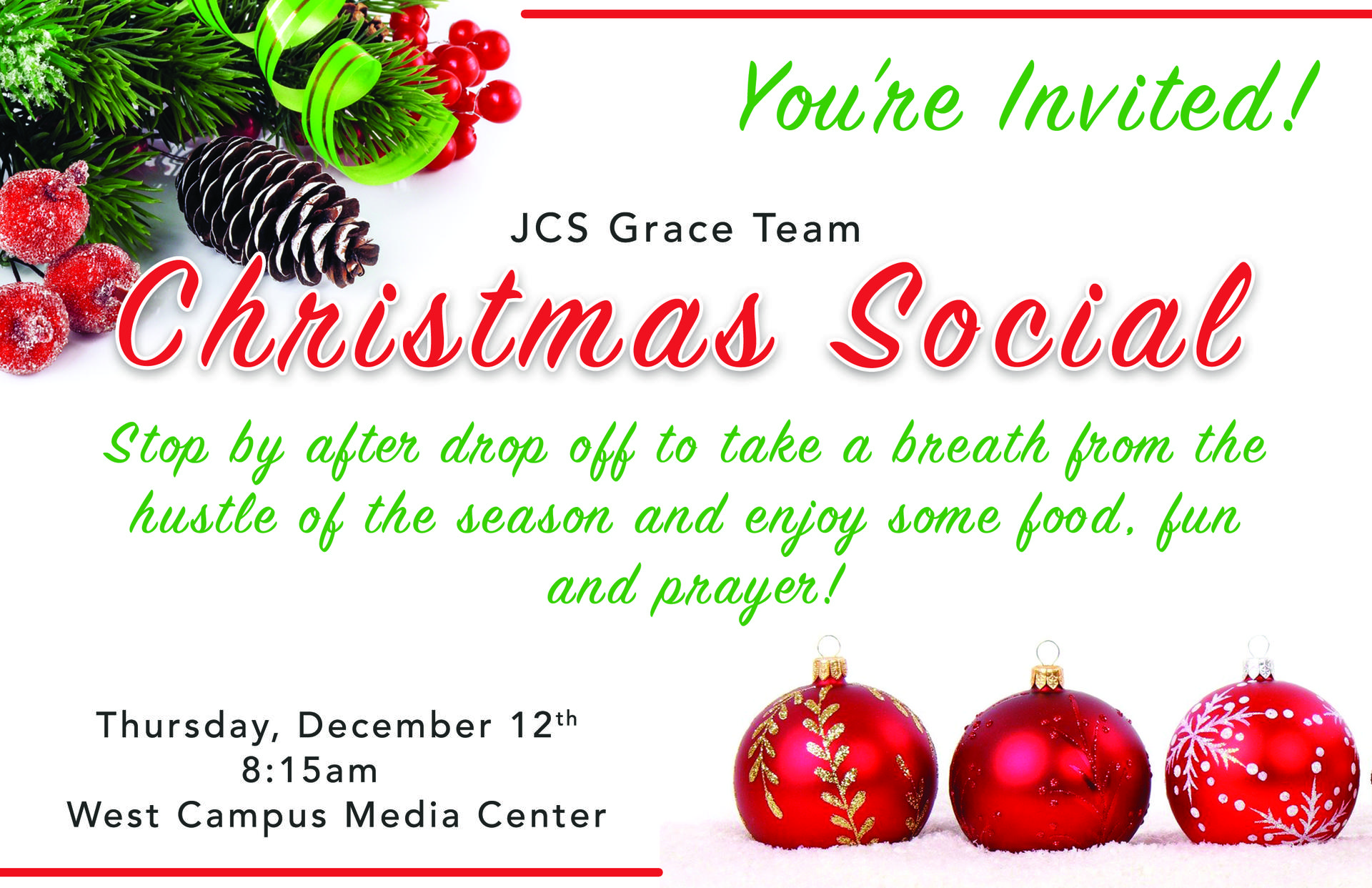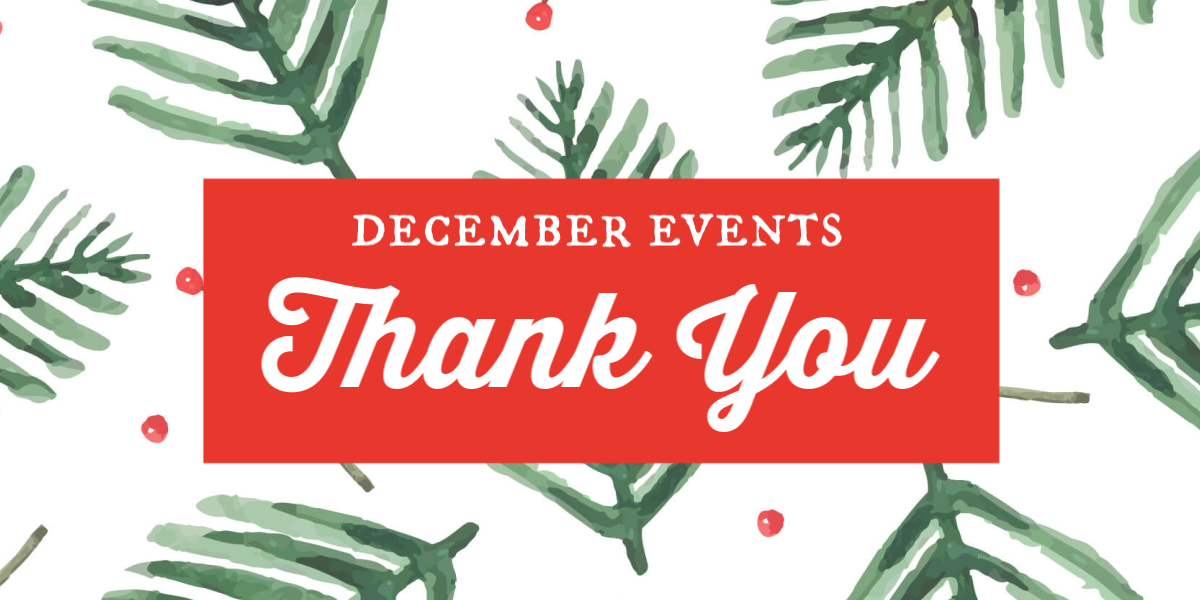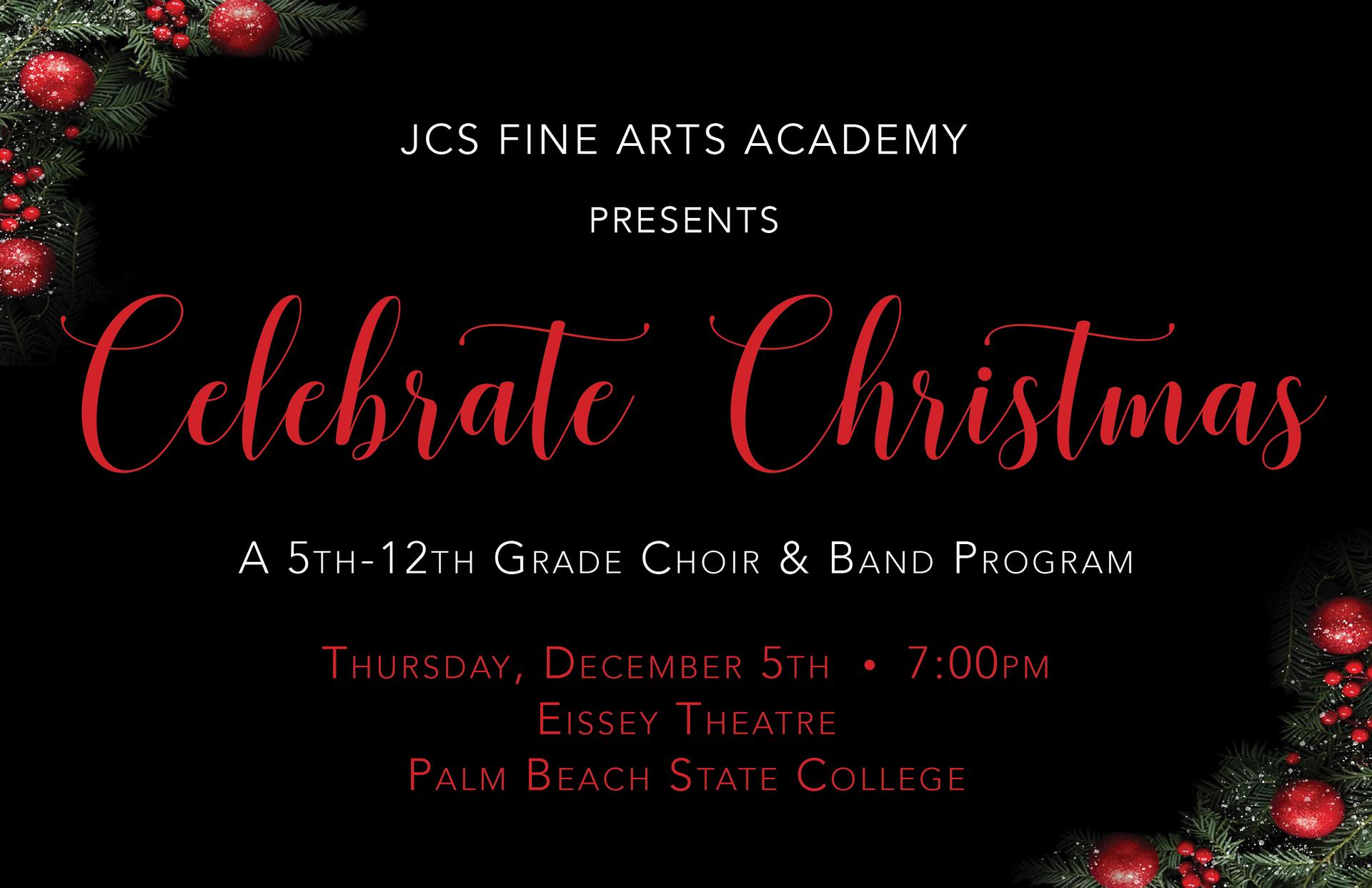 The JCS Fine Arts Academy's 5th-12th Grade Choir & Band Program Celebrate Christmas held at the Eissey Campus Theatre last week was a wonderful way to kick off the Christmas season! The show was amazing and our students performed beautifully.
Thank you to our talented and dedicated Fine Arts faculty: Lower School Music Director Michelle Hoffman, Choir Director David Muller, and Band Director Luis Rivera for producing this beautiful show and working each day to inspire, motivate, and encourage our students to use their gifts and abilities to honor God and make a difference in the world. Thank you to Upper School Art Teacher Peggy Pro for her work in setting up the Middle and High School/AP visual art display in the theater lobby, and to Claire Sites, JCS Fine Arts Community Partnerships, for her work on this special fine arts event.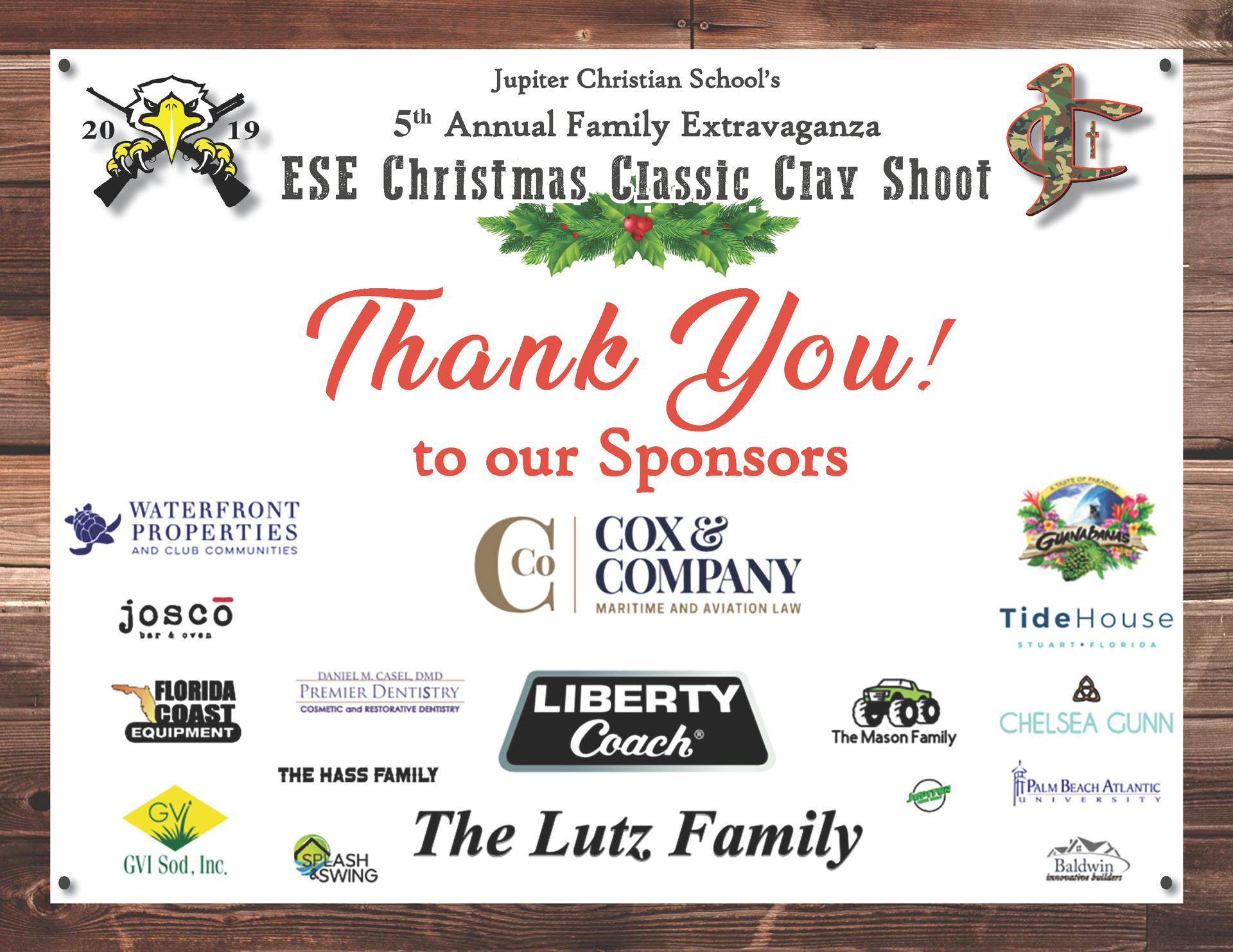 The 5TH Annual ESE Christmas Classic Clay Shoot was a success! Thank you to all our families, friends & sponsors who showed their support for our ESE program! 100% of all proceeds raised will further support "Educating Students with Exceptionalities!"
A special thank you to the ESE Christmas Classic Clay Shoot Committee Co-Chairs Tom and DeAnna Pledger & Michelle and Brent Hood who have a passion for our ESE program and give so much time and effort each year to make sure this event is a blessing to our JCS families. We are so grateful for all of our committee members: Joy Poletti, Kim Mason, Laura Hass, Kristina Vazquez, Chelsea Gunn, and Kim Nereau, and for Keali Parker for her graphic design work for the event.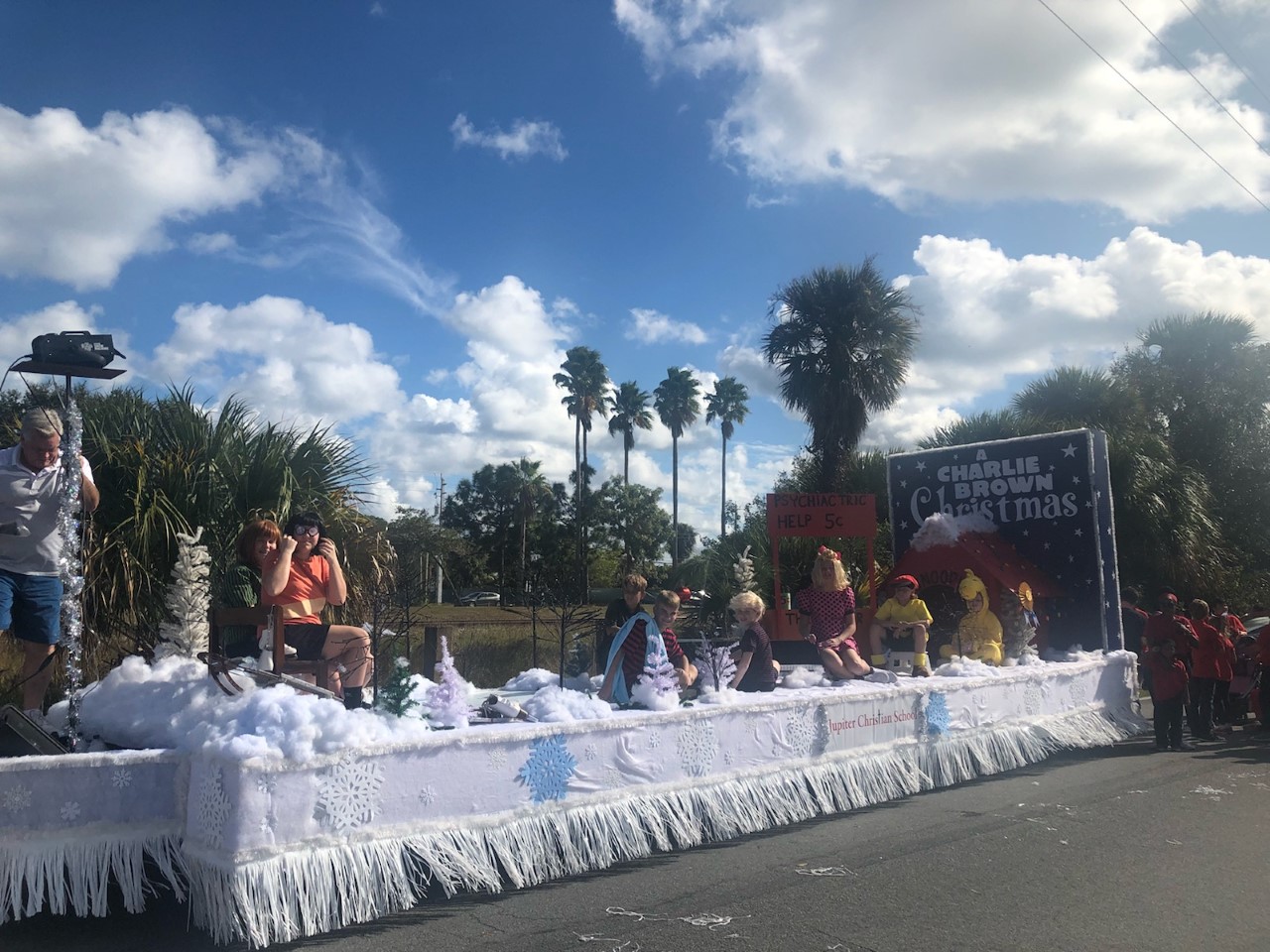 The 43rd Annual JTAA Christmas Parade was so much fun this past weekend! Jupiter Christian School won 2nd place for Best Overall Decorations with our Charlie Brown Christmas float.
We would like to extend our gratitude to The Spear family who make this possible every year! From design to construction, they go above and beyond to make the JCS float a beautiful representation of our school and the Christmas season. Special thanks also to The Pledger Family, Kelly Walker, Kim Bradshaw, Darla Hall and all the walkers who also contributed greatly to representing JCS in the parade!
Coming up this week, we have our East Campus Christmas Programs: PK3 on December 11th at 8:30 a.m. in the East Campus Covered Pavilion and December 12th PK4 performs at 8:30 a.m., and Kindergarten performs at 6:00 p.m. that evening.
The Christmas celebrations continue next week with A World of Christmas on our West Campus in the Gymnatorium at 7:00 p.m.. Students in grades 1st-4th will perform in a program that is sure to warm your heart and remind us all of the reason for the season.
Then on Thursday, December 19th, JCS Eagles Basketball presents Christmas on the Court with fun for the whole family beginning at 4:00 p.m. with Varsity Women's Soccer and Junior Varsity Men's Basketball games. The Varsity Women's Basketball game starts at 5:30 p.m and the Varsity Men's Basketball game is at 7:00 p.m. We are looking forward to seeing the East Campus Cheerleaders perform at the 5:30 p.m. game and Impact Cheer at the 7:00 p.m. game. There will be fun giveaways and prizes as well, sponsored by the Booster Club. Looking forward to seeing you there!
Blessings,

700 South Delaware Blvd • Jupiter, FL 33458 • (561) 746-7800 (West Campus)
125 South Pennock Lane, Jupiter, FL 33458 (561 972-4521 (East Campus)