Advancing our JCS Mission: committed to excellence in teaching the mind, reaching the heart, and inspiring servant leaders who will impact the world for Jesus Christ.
Dear Jupiter Christian School Community,
December marks the beginning of Advent and traditionally the first week represents Hope. Jesus came to Earth to bring us hope of eternal life, the greatest gift of all. During this season of giving, we have the opportunity to bring hope to others in many ways and make a tangible impact on our community through JCS. Below are a couple of wonderful opportunities I would like to share with you.
TODAY on Giving Tuesday, a global generosity movement that takes place on December 3rd, Facebook will match a total of $7 million in donations on a first come, first served basis. Our JCS families, friends, and community partners can visit our page now and join us in meeting our goal of raising $45,000 to provide tuition for the Bahamian families joining our campuses following the devastation from Hurricane Dorian. Please take a moment to VISIT OUR PAGE and make a difference for these precious families.
This year our JCS families have the opportunity to join together and participate in Year-End Giving to support the growth of our school through the Soaring Eagles Annual Fund. Tuition and fees cover the basic costs of educating students at JCS, and every dollar raised through the annual fund helps us not only sustain our current programs but will allow us to grow them and add new ones to enhance the JCS experience for years to come. Details are available on our Soaring Eagles Annual Fund webpage, along with a link to contribute to the fund and be a part of making a difference in the future of JCS students.
We pray that God will richly bless you and your family as you prepare to bless others today, this season, and throughout the year with your gift of generosity whether through financial contributions, donations of your time to help others, or sharing the good news of Jesus with those in your community and throughout the world.
We also have many exciting events coming up on our campuses this month! Please take a moment to read more about them below.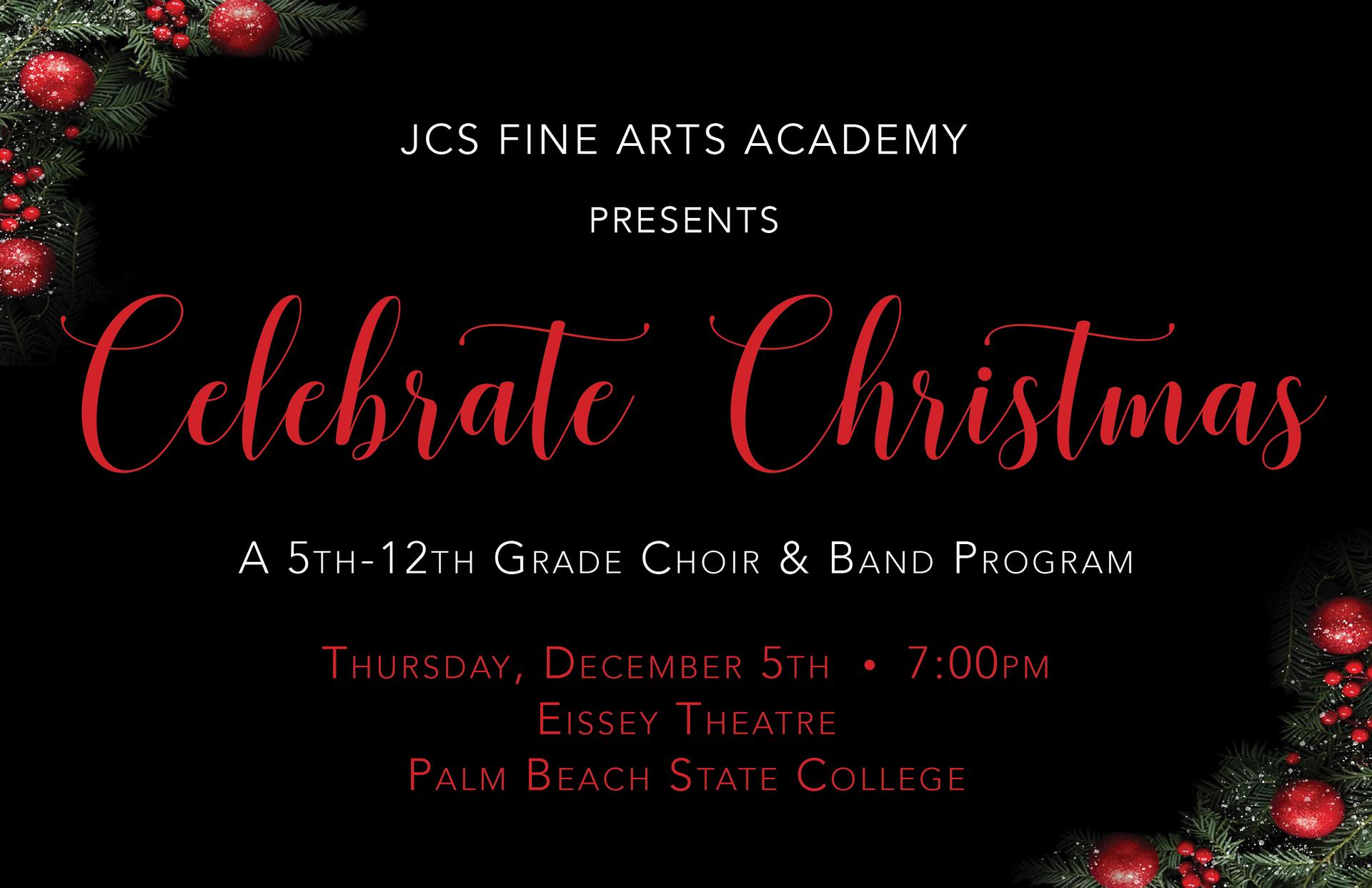 The JCS Fine Arts Academy presents Celebrate Christmas, a 5th-12th Grade Choir & Band Program, this Thursday, December 5th at 7:00 p.m. at the Eissey Theatre Palm Beach State College.
You are invited to join us and hear the sounds of the season as our students perform in this beautiful theater. Hope to see you there!
The 5TH Annual ESE Christmas Classic Clay Shoot is this Saturday, December 7th at Quail Creek Plantation! There is still time to register. Visit our ESE Christmas Classic Clay Shoot Webpage to see all of the details for this year's event, complete your registration, reserve transportation, and check out the sponsorship opportunities available. Clay Shoot shirts can still be purchased using this order form.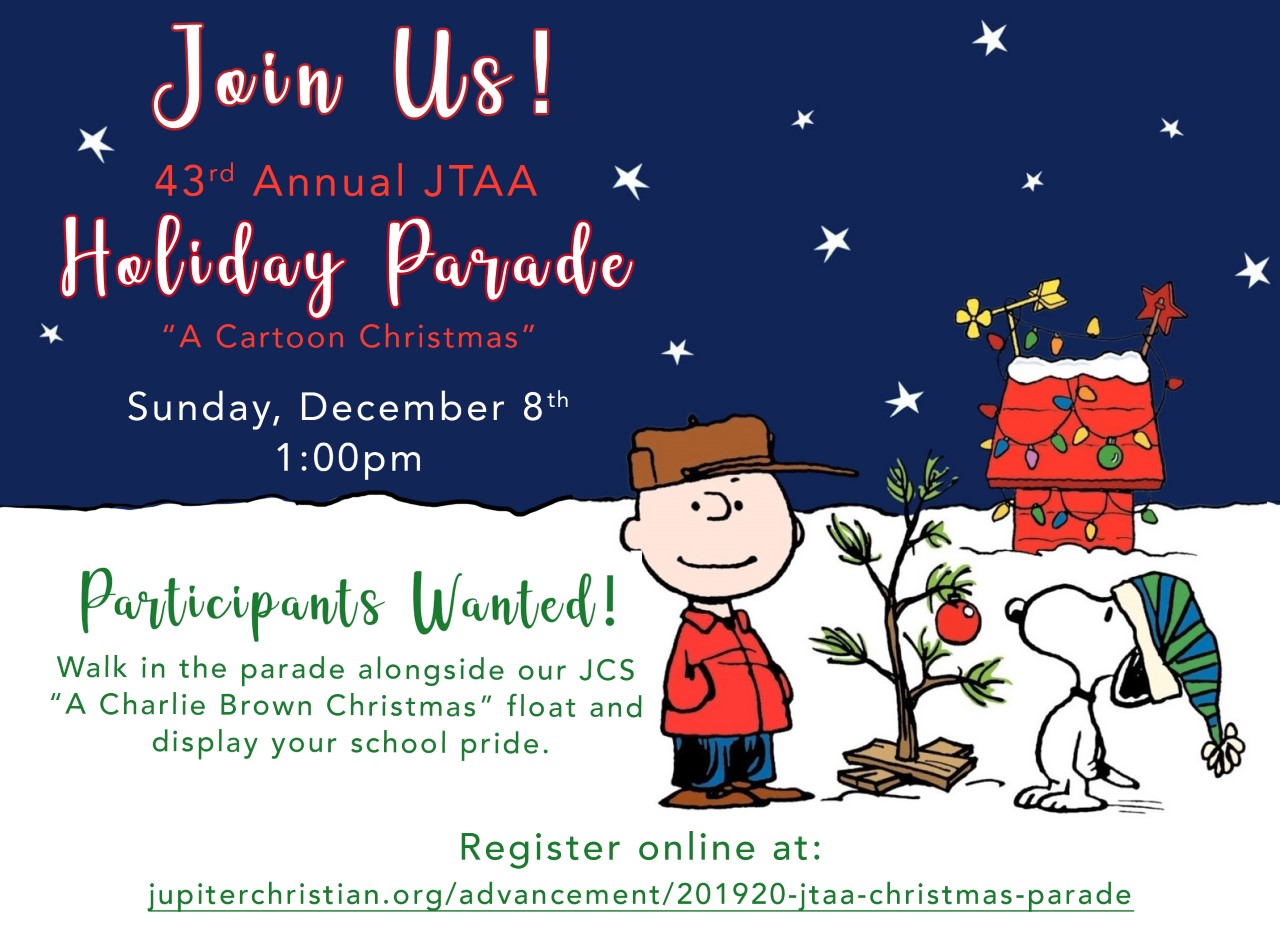 Walk in the parade alongside our JCS "A Charlie Brown Christmas" float and display your school pride this Sunday, December 8th at 1:00 p.m. There is still time to register to participate and be a part of this festive event, click HERE.
All participants must be able to walk the parade route and wear a JCS shirt or solid red shirt with jeans or denim capris. NO shorts, please. Christmas hats are encouraged! Students 6th grade and under must have a parent walk with them.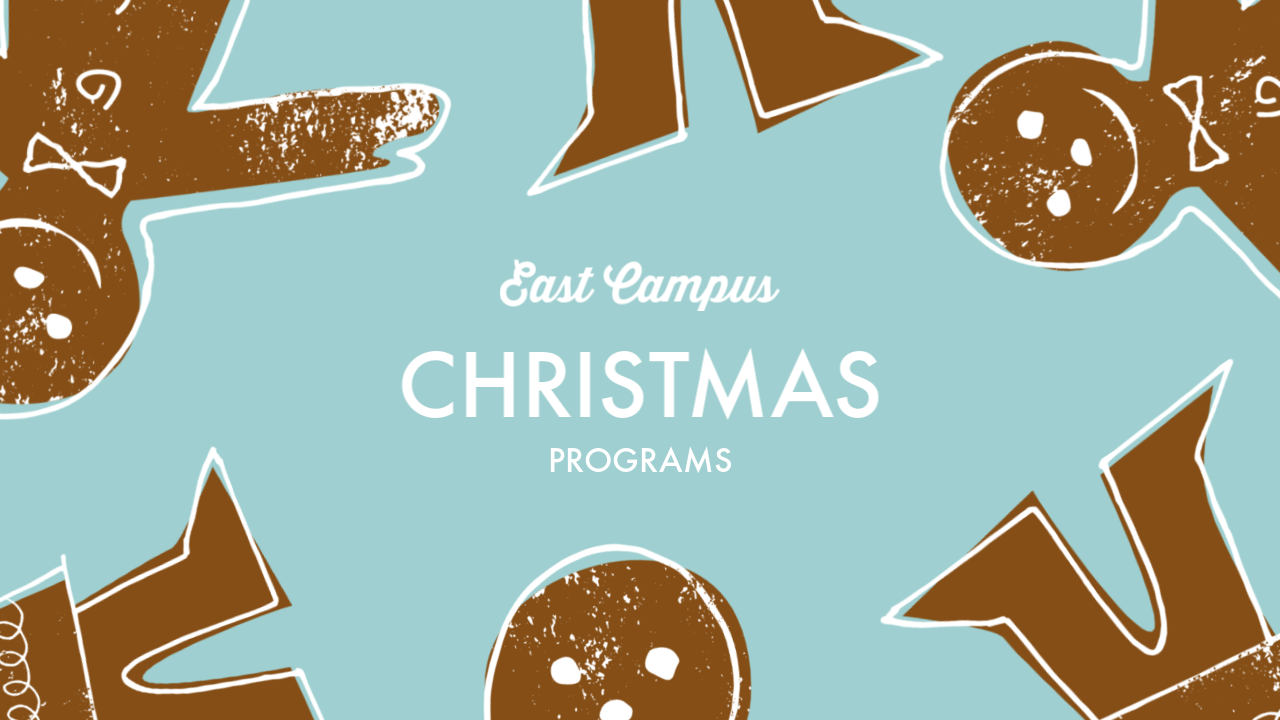 Our East Campus Christmas programs begin on Wednesday, December 11th at 8:30 a.m. with our PK3 students performing in the East Campus Covered Pavilion. Then on Thursday, December 12th, our PK4 students perform at 8:30 a.m. in that location and our Kindergarten students at 6:00 p.m. that evening. On Monday, December 16th the festive fun continues with our PK2 program in the classrooms at 8:00 a.m. See you there!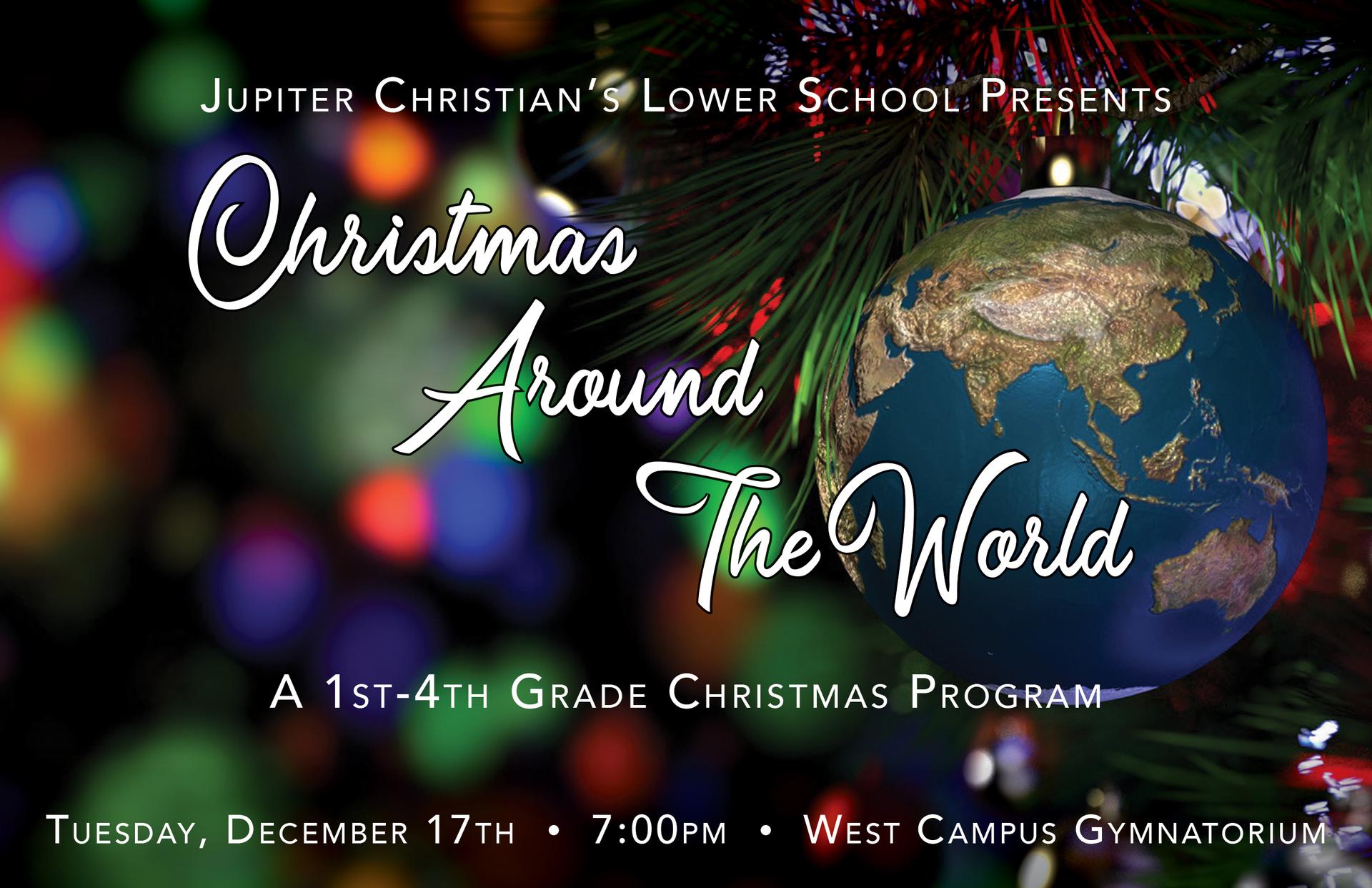 Our 1st-4th grade Christmas program, Christmas Around The World, will be on Tuesday, December 17th at 7:00 p.m. in the West Campus Gymnatorium.
Come join us for an evening of Christmas music that is sure to warm your heart and bring reason for the season to life from the stage. Our students are excited to perform for our JCS families and friends!
As we celebrate this first week of Advent and reflect on Hope, my prayer for you is, "May the God of hope fill you with all joy and peace in believing, so that by the power of the Holy Spirit you may abound in hope." Romans 15:13
Blessings,

700 South Delaware Blvd • Jupiter, FL 33458 • (561) 746-7800 (West Campus)
125 South Pennock Lane, Jupiter, FL 33458 (561 972-4521 (East Campus)